AMORINO – GELATO AL NATURALE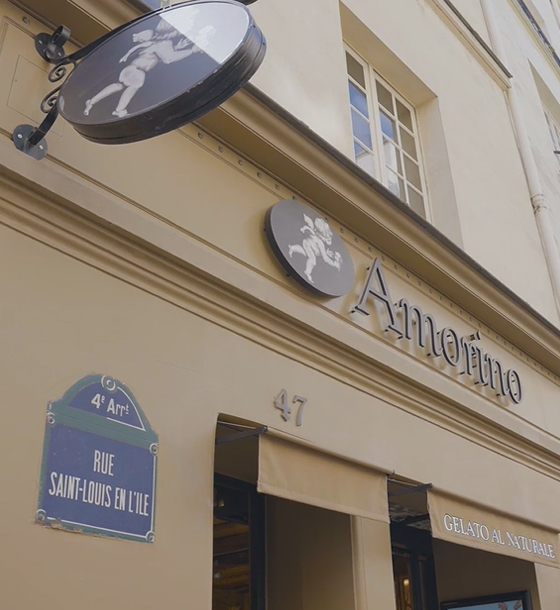 Origins : 1

st

store
In 2002, Amorino opened its first store in the heart of Paris. The adventure started on Ile Saint-Louis, the must-see destination for any visitor to Paris.
Childhood friends, the co-founders Cristiano Sereni & Paolo Benassi decided to combine their two passions: Italy – gelato.
The idea was to allow Parisians to discover the true taste of the finest Italian gelato recipes.
The gamble was taken and it proved to be a resounding success.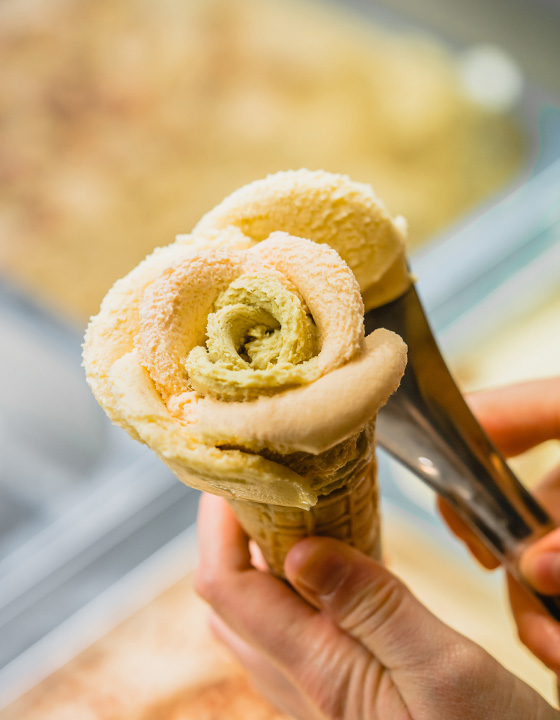 Concept
Amorino sets itself apart thanks to its philosophy of only using carefully sourced ingredients all of which are free of preservatives, artificial flavors and flavor enhancers, to make their artisanal gelati.
Then, using a spatula, the gelati are shaped like a rose, making them both unique as well as appetising and easily recognisable.
Customers may choose as many different flavors as petals on the flower, select the size of cone or cup and add a gelato-filled macaron to top their creation, just like a cherry on a cake.
A wide range of hot and cold drinks is also available and the most demanding customers can create their own milkshake or sorbet drink with the flavors of their choice.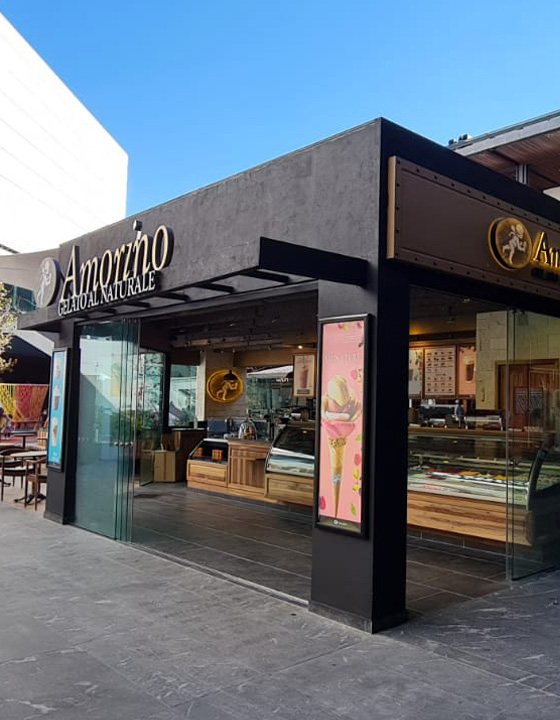 development and franchises
In 2006, the franchise network is launched and more than 90 points of sale are progressively opened throughout France.
Two years later in 2008, Amorino celebrated the opening of its first international franchise in Barcelona. In a few years, the brand has expanded to other major cities such as New York, London and Milan.
2016 was a memorable year for Amorino as it was awarded the Vegan Society's seal of approval for its entire range of sorbets.
The same year, Amorino was granted the Quality Charter for « Artisanal Ice Creams of France » by the CNGF (Confédération National de Glacier de France), in addition to celebrating the opening of its 150th store.
By 2022, there are more than 200 stores worldwide.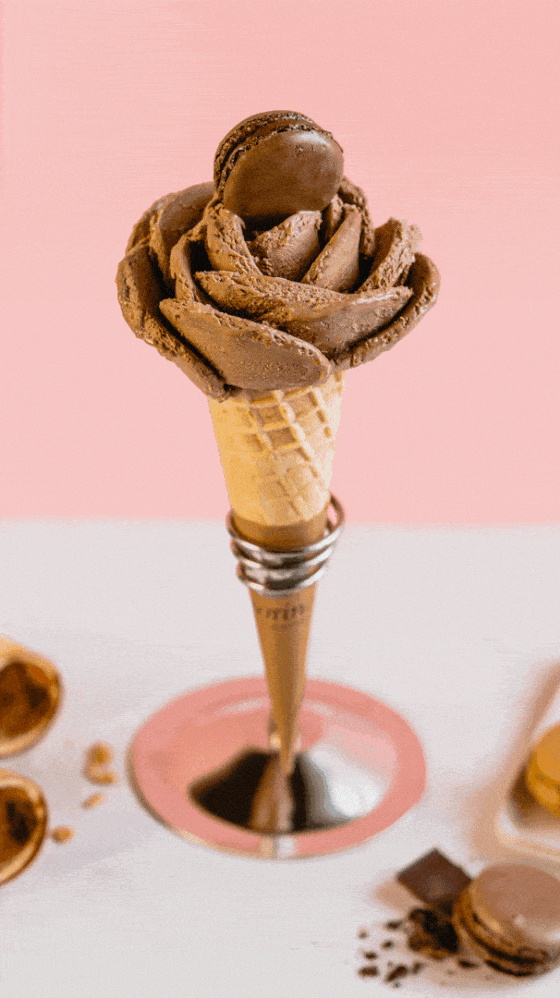 Star products
Amorino is not only known for the quality of its goods but also for its know-how.
The brand's star product is, of course, gelato, and among the most popular flavors are the Bourbon Vanilla from Madagascar, Pistachio Mawardi as well as the famous chocolate and hazelnut flavor: « Inimitable ».
Using its know-how, the brand also proposes limited edition seasonal flavors, such as Yuzu, Calamansi, Bergamot, Sudashi, organic Almond to name but a few. Originally limited-edition seasonal flavors, Lime Basil and Cheesecake were so successful that they are now available year-round.
This range of emblematic flavors is now extended to include the gelato-filled macaroon and frozen desserts.
The gelato-filled macaroon, appears in 2013 in Amorino shops.
It is an innovative product that breaks the codes. Inspired by the classic recipe, this macaroon combines a touch of French pastry with the wonderful taste of Italian gelato.
It has been so successful that it has become the essential element of the signature format.
In 2021, the classic gelato-filled macaroon will share the stage with the grandioso gelato-filled macaroon an XXL version for those most gourmets.
As elegant as they are delicious, they have also become a must-try, with the best sellers such as Delizia or the Meraviglioso (our 2021 Yule log).
On the café side, Amorino offers a wide range of hot drinks including Italian style hot chocolate.
This extremely tasty hot drink owes its success to its richness and creaminess.
It can be eaten with a spoon and is available in 10 different flavors. A cloud of homemade whipped cream, dusted with cocoa powder can be added to further increase your enjoyment of this treat.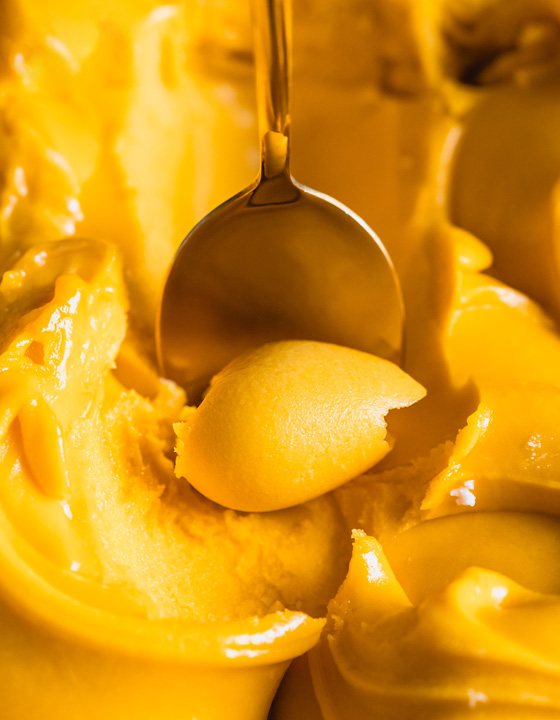 Key figures
In a nutshell, Amorino is :
36 flavors of gelati & sorbets without any artificial coloring or flavoring made from selected organic ingredients, organic eggs and farm fresh milk.
Present in 16 countries
200 stores throughout the world / 12 cones sold every minute
3 500 000 gelato-filled macarons made by hand every year.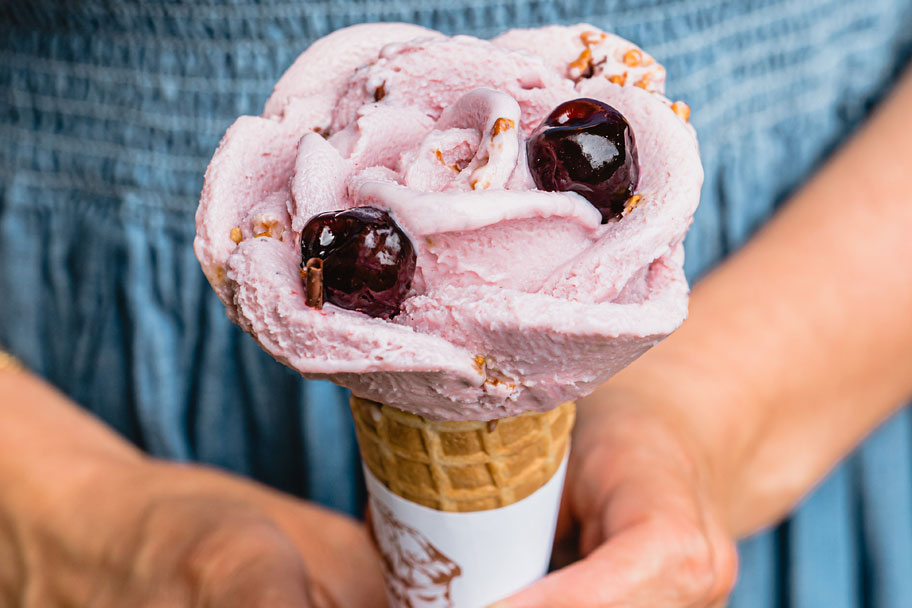 Anniversary
To celebrate its 20th anniversary in style, Amorino has decided to re-release an emblematic flavor, very dear to our founders:
The Amarenada, a revised gelato recipe with fior di latte and cherries combined with hazelnuts chips and dark chocolate flakes.
This flavor also is presented as a Grandioso gelato-filled macaron specially decorated for the 20th anniversary with a chocolate and vanilla shell.